More intelligence.
Less confusion.
Until now, no one has applied advanced analytics to the global universe of CTI. Ticura analytics with automation eliminates noise and confusion, lowers false positives, expands your defenses, and frees up resources.
The first solution to automate threat intelligence on a global scale will answer basic questions:
Which feeds are optimal for my organization?
What percentage of false positives can I eliminate?
Which feeds expand my coverage?
Am I overpaying for threat intelligence?
How do I use automation to customize CTI for my business case?
How much money do I save with global CTI and automated processes?
Can I do more in less time?
A multi-tenant solution, ticura improves ROI for everyone
In real-time, Ticura collects threat intelligence from more than 350 free and commercial sources. Then leveraging its proprietary engine, data science, and machine learning we enrich, normalize, and categorize the data to compare with your CTI and security event logs to recommend an optimal combination of CTI.
Ticura then seamlessly delivers the optimal CTI sources to your security infrastructure with continuous feedback and refinement.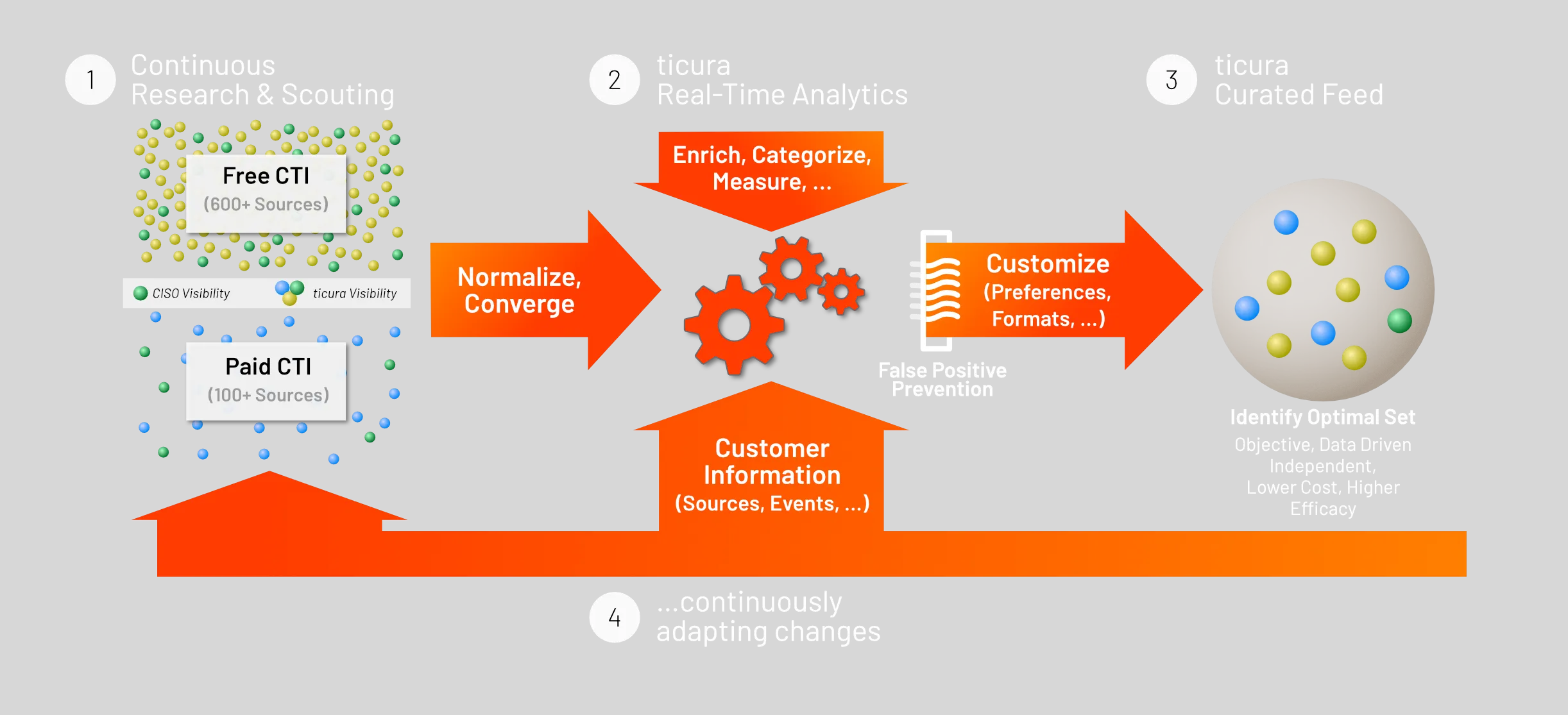 Real-time prioritization by measuring the relative effectiveness of individual threat intelligence sources removes the need for analysts to choose which data sources are important or not and enables you to eliminate costs associated with redundant or ineffective feeds.
With Ticura:
Confidently select the optimal set of threat feeds and eliminate superfluous subscription fees.
Minimize false positives alerts and free up resources to proactively protect against evolving threats.
Significantly expand your global intelligence footprint while focusing on alerts that matter.
No training, overhead or changes to your application environment required.
Single pane of glass management and insight.
With continuous research, enrichment, normalization, and aggregation of all information sources in the recommended portfolio we provide a single pane of glass for the research of analysts, threat hunters and incident responders.
Put an end to the hassle of working with a multitude of portals from different vendors. No more working with islands of intelligence.
Seamless integration into existing infrastructure
Dynamic, global repository

350 sources today, continuously growing

Lossless normalization

Continuously monitored and improved

Correlation, Deduplication

Lossless across all sources, preserving metainfo for full insights

Enrichment

Continuously growing from 100s of sources and methods

Dynamic Categorization

Based on ML, features and rules

Measure relevance and efficiency

All sources, based on customer preferences, events

Curate optimal source set

Based on efficiency and relevance

Intelligent False Alert Prevention

Category based, customizable, optimized

Optimized Export

Optimized format for each customer

Existing Infrastructure

Optimized for insights, integrate with nearly no effort