Still Crazy After All These Years.
New technologies emerge and security budgets grow every year. Yet high profile breaches continue to occur, and analyst burnout is at an all-time high.
Ticura continuously improves the effectiveness and efficiency of your threat intelligence program to protect against evolving threats, escalating costs, and talent shortage.
More signal. Less noise.
Ticura enriches existing threat intelligence programs with data from over 350 sources of network, public cloud, SaaS, endpoint and identity telemetry. Then, leveraging its proprietary detection engine, data science and machine learning, Ticura analyzes and surfaces the anomalies, incidents and threats to deliver optimal protection for your organization.
Real-time prioritization by measuring the relative effectiveness of individual threat intelligence sources removes the need for analysts to choose which data sources are important or not, and enables you to eliminate costs associated with redundant or ineffective feeds.
Global visibility:

Aggregate, categorize, normalize and correlate security data and threat intelligence from more than 350 sources to catch advanced threats that are missed with other approaches.

Black Box Integration:

No training, overhead or changes to your application environment required.

Single pane of glass:

Scale and analyze data faster with curated detections unique to your environment.

Unmatched efficiency:

Eliminate inefficient or redundant sources of threat intelligence and superfluous subscription fees. Minimize false positives alerts to improve analyst throughput and reduce burnout.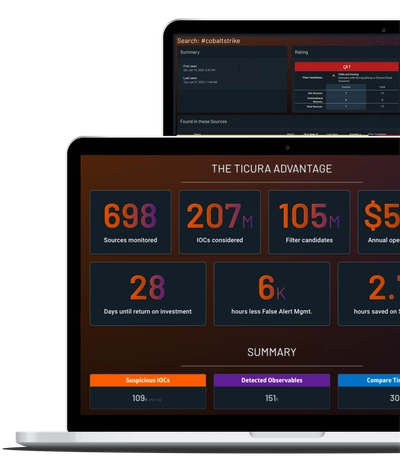 Elevate your outcomes instantly.